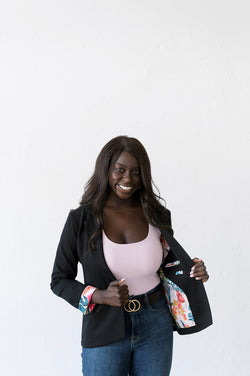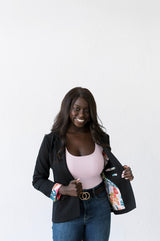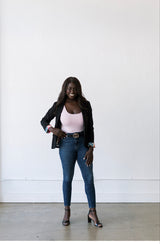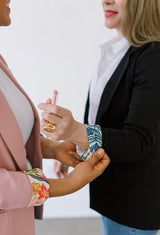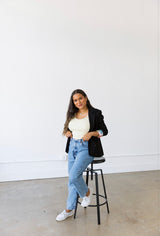 PWR WMN
She Means Business | Women's Black Blazer Suit Jacket
This is your loyal, tried and true, never going to let you down, black PWR WMN Blazer.

This PWR WMN staple blazer is incredibly comfortable and flexible and it moves with you, just like your best friend would. The sleeves are long enough for you to fold up and show off the beautiful interior lining, just in case you want to spice it up and get sassy that day! 
On the inside you'll find the luxurious and feminine lining, with enough give to let you stretch and move with confidence, without fear of tearing the seams!
Last but not least...the pockets...THE POCKETS! Two strategically placed interior pockets, one big enough for your credit cards, ID, money, business cards, and another smaller pocket for a pen, lipstick, or a tampon, whatever a PWR WMN needs. On the outside, two deep and sturdy pockets, big enough for your phone and whatever else you need to carry to be ready for your day! 
 A women's blazer for Power Women ❤️
Suzzy is the epitome of a PWR WMN and we are so lucky to know her because she models for us for free! hehehe! This beauty is 
170lbs, 
5'10", and a 
36DD. She used to play basketball with her twin sister Lizzy (yes there are TWO of these beauties walking around we're not even kidding)! She's wearing a size Medium in the She Means Business!