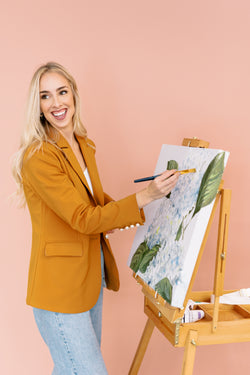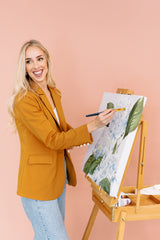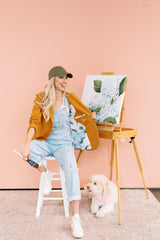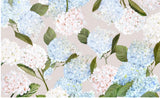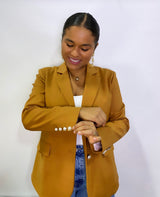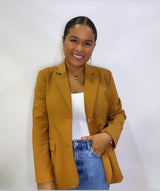 PWR WMN
The "PSL" or Pretty Sassy Lady Camel Boyfriend Fit Women's Blazer Suit Jacket
ARRIVAL:
**We ordered more sizes and they will be here by late November- early December! If you order a size that we have in stock we will ship it immediately! **
We got together with local Dallas artist and muralist Chera to create the stunning spicy "PSL" blazer and the lining you see is actually one of her paintings!!!! You get to literally wear art and support two local women entrepreneurs, now what's better than that???!
Also you gotta let us brag on her material for a bit. She is SO STRETCHY but yet has the best structure and form so you're not looking frumpy at all! We gave her pearl button details too just because a Pretty Sassy Lady always has to have her pearls! 
She's totally cold water machine washable (we tested it ourselves!) and we recommend air drying her! 
Model Stats: 
Ok Chera is the real deal: talented, kind, cute as a button, and her puppy Rosie is just the cherry on top!!! If you drive around Dallas you're bound to see one of her stunning murals (guys they're unreal!!). We met her through our dear friend Emily Austin (with whom, if you follow us on instagram, you know we are OBSESSED!)! Chera is a 34D, 130lbs, and 5'10" and she is wearing the medium for a more oversized look although she could easily rock the small as well!